---
L
A dance score in Laban language
Laban Rudolf
< Espace dynamique. Contredanse, Brussells 2003. A theorist of dance, in the 1930's, in the first Bauhaus (Kandinsky, Klee) spirit: an effort to define a choreographic language, starting from the "spiritual". Whereupon can one digitize dancing? See an example in Gourfink.
LAb[au]. Group of artists. Their Website is teasing.
- A presentation on MCD. Chief members: Manuel Abendroth, Jérôme Decock and Els Vermang.
- At Denise René's in spring 2013. Our note.
> man in |e|space (2005). Performance with two ballerinas. In collaboration with Wolf Ka. [Moulon] p. 16-17.
LAb[au]. Particles
Le.Labo.3D. 3D Pictures. CEO: Benoit Hubert.
Labomedia. A rich nest of activities.
- The 2012 program. (Spring). Residence of Pascale Gustin and the Bookfighting in 2012.
Laboratoire ouvert lyonnais. LOL. A kind of fablab.
- LOL belongs to the worldwide movement hackerspace, hacklab and wants to be open to exchange and cooperation with othere groups.
- In April 2011, it joined th Petits Débrouillards de Lyon
- Its self description (Jan. 2012):
. Le LOL rassemble des passionnés de bidouillages en tous genres. Électronique, informatique, mécanique, chimie, arts numériques, cuisine expérimentale, etc. : chacun amène son savoir-faire et sa curiosité dans un mélange ludique de création, bricolage et de détournement technologique en tout genre. Vous avez un projet à partager ? C'est l'occasion de le présenter, et peut-être trouver de nouveaux contributeurs
. L'une des vocations du LOL est de fournir à ses membres un lieu pour héberger leurs projets ainsi que d'organiser des présentations publiques. Il est aussi ouvert sur l'extérieur par le biais de partenariats avec les institutionnels, animations ou participation à des événements
. Un autre objectif du LOL est le partage des connaissances, et l'aide à la ré-appropriation des technologies par le grand public. Notre vie est remplie de machines plus ou moins intelligentes. Si en gérer une seule ne pose pas de soucis, prévoir ce qui va se passer lorsque plusieurs machines vont travailler ensemble est beaucoup plus délicat; surtout si un humain se trouve au milieu

Labrune Jean-Baptiste. Scientist (Alcatel Lucent Bell labs).
- More in French.
Lachaise Marion. A video maker. But also a sculptor, presenting her videos on a small screen integrated to the sculpture.
- Quoted by [Berger-Lioret] p. 81. More in French.
Lachapelle Pierre.
> Tony de Peltrie (1985), by Pierre Lachapelle, Philippe Bergeron, Pierre Robidoux and Daniel Langlois. Produced by the University of Montréal.
Lacroix Georges. See the Paris ACM Siggraph page.
- Comments by Jean Segura in Sonovision, Dec. 2013, Trois décennies en 3D pour trois démiurges.
> Fly Bill (1983c), a Sogitec production. His first 3D synthetic image film.
Lafaille J.M. Poetry.
> Fragments d'une histoire (1994) See .Bootz.
Lafargue Jean-Noël. Interesting blog about computing and, for a part, art.
Laforet Anne.
< Le netart au musée - Stratégies de conservation des œuvres en ligne. Editions Questions Théoriques, 2011.
Lagny Fabien. Graphic artist.
> 18h39 (1997). CD Rom by Serge Bilous, Fabien Lagny and Bruno Piacenza 1997, Paris, Editions Flammarion, Collection Art & Essais PC - Macintosh . Page Olats. Presented at Etats-Généraux de l'écriture interactive, Nov'Art 1997.
Laguinonie Jean-François. Film maker.
> Le tableau (2011). Analysis by François Ploye in Sonovision Broadcast, Dec. 2011.
L.A.I.R.E. Collective group (Lecture, Art, Innovation, Recherche, Écriture) by Philippe Bootz and Tibor Papp. Presentation in [Bootz].
Lakmé. Extract from "Opéra imaginaire", 52 minutes, for TV. See the page Paris ACM Siggraph.
Lamarche Bertrand. Mechanical and kinetic works, but with light and video effects that makes him near to digital.
> Réplique (Baphomètre) (2012). Presented in Muséum d'Histoire Naturelle, Paris.
> Cyclo-City (2012). Presented at Fiac 2012.
Nick Lambert : synthetic scheme of his work.
Lambert Nick. Digital art professor at BBK. Personal page.
- A powerful thesis about digital art, and fully online about computer art. His conclusion: computer art future is to merge itself in art generally speaking, and not to become a specific category of art.
Lambert-Wild Jean.
- Video et Internet in Centre dramatique national de Normandie (Hérouville Saint-Clair, near Caen, Normandy).
- Under the title "une techno-poétique", Mari-Mai Corbel dedicates him a 24 pages chapter in [Garbagnati].
- Quoted by [Berger-Lioret] p. 95.
Lamunière Simon. [Jouable] . Video of his introduction at Art Basel 2007.
Land Dick. Computer print.
> Flowers (1978). An image in the Recode project.
Landesign. A design consultancy formed in 1992. 2 pages in [Cameron].
Landi Eduardo. Cinetic art. 1950'years. A member of Gruppo N.
Landreth Chris. Golden Nica 2004. in Cyberarts 2004. Psychorealism.
- Video of an interview during Siggraph 2009.
> Bingothe Clown (1998) Video.
Pe Lang. Kinetic art, with motors controlled by computer.
- At Denise René's in 2013. Our note.
Langheinrich Ulf. Multimedia. Forms the group Granular Synthesis with Kurt Hentschalger.
Langheinrich: Movement
> Movement (2010). Comment by Dominique Moulon, at Show Off 2013: "This work would deserve a totally black room, as in the performances. We cannot provide in this Show enviroment, but we are glad to present this very beautiful work, which demanded a lot of work, notably body capture of dancing girls, and a Japanese performer. It sets a long duration, a slow stretching, just one hand... you perceive this without really reading it... The image goes with a music of held drones, multiple sound sources..." (our translation).
> Hemisphere (2006). Film in immersive environment. [Moulon] p. 57-58 with a picture.
Langlade Catherine. She founded in 1990 the Spideka company, the artistic line of which is based on dance-image relationship in simultaneous interaction. "The interpreter does not drives the image, but synchronizes himself with her" ([Aziosmanoff]).
> Viens danser (2005) Aziosmanoff dedicates 15 pages (included 3 of color pictures) to this work.
- Quoted by [Berger-Lioret] p. 92.
Fondation Daniel Langlois. Its self-presentation : " Founded in 1997 the Daniel Langlois Foundation for Art, Science, and Technology is a private, charitable organization with an international scope. The Foundation aims to further human knowledge by supporting artistic, scientific and technological research. Revealing the interdependency between ourselves and our omnipresent technological environment is at the core of the Foundation's questioning. The Foundation seeks to bring art and science closer together within a technological context on two levels: first, by nurturing a critical awareness of technology's impact on ourselves and on our natural and cultural environments and second, by promoting the exploration of aesthetics reflecting the environments that we shape. The Foundation also seeks to promote the emergence of knowledge founded on local practices that contribute to the growth and well-being of people in their communities and environments. "
Langlois Monique. Specialist in video history and installation art. Teaches at Université du Québec, in Montréal and Hull.
Languedoc-Roussillon. See our geographical guide.
Langton Christopher. One of the fathers of artificial life. With its four classes. See notice.
- Quoted by [Berger-Lioret] p. 135.
Lansky Paul. Music. Cited by [Baudouin]. A document scanned by Google.
> Mild und Leise (1975c.)
Lansdown John. Architect.
- In 1968, with Alan Sutcliffe, he founds the Computer Arts Society as a branch of the British Computer Society.
"He made perspective drawings in 1963, modeled a building's elevators, plotted the annual fall of daylight across its site" ( [Masson]).
LaPorta Tina. Videos, webcam. Art, or human sciences? Biography.
- [Popper 2] p. 330-334 ; "an exploration of Internet impact on identify expression"
> Digital Footprint (2010 c.) Video.
> Remote_corp@REALlities (2001) [Paul] : webcams.
> Re:mote_corp@REALlities (2000).
> Distance (1999).
> Distance in Real-Time (1999).
Laposky Ben. A precursor of digital art, using oscilloscopes. Wikipedia.
> Oscillons (1940).
- A chapter in Nick Lambert thesis, Computer Art.
- Video of a work.
Lapourtoi. Social net created in Paris la Défense.
Laroche Florent. Irccyn, Ecole Centrale de Nantes.
< Creating interactivity of our heritage stored in Museums Experimentation with Château des Ducs de Bretagne History Museum of Nantes, by Florent Laroche and Jean-Louis Kerouanton. Communication at Laval Virtual 2010. Online.
Laroche Simon. A member of Projet Eva.
Laroze Frank. Writer and multimedia artist.
Larsen Deena
- She "has been a pioneering influence in the electronic literature field. Her first work, Marble Springs (Eastgate 1993) was her first interactive hyperpoetry. Her other Eastgate work, Samplers (1996), appeared on the required reading for the New South Wales Board of Curriculum."
Lartigaud David-Olivier.
< Art++. David Olivier Lartigaud ed. , HYX 2011. Groups contributions base mainly on the Programmation orienté art symposium, 2004.
- The Darko Fritz contribution to this work is online.
Laske Otto. Music. Cited by [Baudouin].
> Structure 4 (1974).
Lasserre Grégory. See Scenocosme.
La Spada Giuseppe. Music and multimedia. Wikipedia (in Italian).
> Afleur (2009). With his friend Con_cetta. A live show which in 2010 he also declined in an object-book.
Lasseter John. Film maker, classical animation. His 11 principles.
> Cars 2 (2011).
> Cars (2006).
> Toy Story (1995) . Pixar. Video of an interview about this film.
> Luxo Jr (1986). Produced by Pixar. A short film with the table lamp. In the Moma (NY) collections and Ina collections.
- [Lioret] 22, 55.
- Quoted by [Couchot 2003].

Laster Technologies. Augmented reality.
Las Vergnas Olivier.
< Romanesque 2.0 . Le passager clandestin (2007). Fiction about an author-computer.
Laswell Bill . Music production. Comparable with Brian Eno. [Moorefield] p.62-70.
Latham William. Goldsmith University Page. IBM Research Fellow.
One of the founding fathers of bio art and artificial life. Wikipedia. He cooperated with the programmer Stephen Todd. website.
> Orpheus in Silicon (2000 c.) Interview and graphical games with Brian Eno, William Latham and Paul Schultze. Video.
> Evolution of man (2000 c.) . Just an images suite, with a rather heavy music, but a pleasant conclusion. Video (A lot of videos on this topic on YouTube)..
> Mutator. Software for generation of organic forms. Quoted by [Berger-Lioret] p. 177.
> Numbers (1995) [Paul].
> The conquest of form (1988).
- Long comments in [Whitelaw].
- He founded Computer Artworks, which proposes organic art.
- [Lioret]] 96-97. [Couchot 2003] p. 45, [Berger-Lioret] p. 141, 177.
Lattanzi Barbara.
> HF Critical Mass (2002) . Open source software to handle videos.
de Laubier Serge. Music composer, scientist, player.
Laufer Roger.
< La machine à écrire. Roger Laufer ed. Institut d'étude du livre. Solin, 1982.
Launier Jean-Jacques.
< Art ludique. by Jean-Samuel Kriegk and Jean-Jacques Launier Sonatine 2011.
Laurel Brenda. Relational art, politics, education.
- Video of her opening speech at NMC 2006.
- Vidéo of her intervention about games for girls.
- [Popper 2] p.175-177.
< Computers as Theater, Addison-Wesley, 1993.
< Computer interface design. par Brenda Laurel (ed.). Addison-Wesley 1990.
< The Six Elements and The Causal Relations Among Them (1991) and Star Raiders : Dramatic Interaction in a Small World (1986). Reprinted with comments in [Wardrip-Fruin 2003].
Lauro-Lazin Linda.
> Artifacts (1995).
Laval-Jeantet Marion. Co-founder of Art Orienté Objet. (Bio art, without computers).
Laval Virtual The world first meeting about virtual reality. Commercial show and VRIC conference.
- Short synthesis of Laval 2012 by Patrick Corsi.
- Program of VRIC 2011.
- Keynote speakers 2011: Jeffrey Ventrella, Vin Sumner, Erkki Huhtamo, Massimo Zancanaro , Abderrahmane Kheddar.
- Trailer for 2011. Synthesis video of 2010 (professional part), and video of open public days.
- Asti takes part in 2003 session AH No 115 (manifestations).
- 2002 session . AH No 78 (manifestations).
Lavaud Sophie.
- 2013, a book about art as forerunner of social practices ": il s'agit de montrer à travers l'analyse de certaines œuvres en quoi certains modèles esthétiques ont anticipé les usages sociaux ou économiques de contribution, partage, échange, collaboration, auteurs distribués, crowdsourcing, crowdfunding permis par les technologies du web 2.0 bien avant l'émergence de ces technologies. On peut trouver, en effet, dans les concepts qui sous-tendent les modèles participatifs de l'art des années 70 par exemple ou les modèles anthropologiques de l'art sociologique ou encore les modèles relationnels du mouvement international de l'Esthétique de la Communication des années 80 bien des similitudes avec les modèles culturels, éducatifs, sociaux et économiques en usage aujourd'hui. "
Author of thesis on Kandinsky, including a 3D visualization.
> Matrice Activ (2000 c.) programmed par Yves Gufflet Video of the work.
> Centre-Lumière-Bleu (1995) [Popper 2] p.225-230.
- More in French.
Lavignac Albert A music teacher at the end of the 19th century.
< Le voyage artistique à Bayreuth. by Albert Lavignac Delagrave, Paris. circa 1895. (Has been republished as paperback, see Amazon for example).
A sculpture by Christian Lavigne
.
Lavigne Christian Digital sculptor. Co-founder and manager of Ars Mathematica and d'Intersculpt.
- An interview about 3D Printing (2013), in French.
- All the videos of Christian Lavigne.
Lavrencic Ursula
> Cell Phone Disco (2011), with Auke Touwslager. The work visualises interferences of cellphones waves with other waves. Urban Screens page.
Lawson Philip Video demonstration with Python/Perl Scripting Reel.
Lawson Shawn
Siggraph 2006: Presentation : Ray tracings on the in between.
> Transformations in red and green (2006 c.). Vintage stereography style.

Layne Barbara. Weaving with integrated messages.
> Currente Calamo (2011). Cited with picture in Artpress2 Art in the digital age, May-June-July 2013.
- Video of her intervention at Sigggraph 2007.
> Untitled wall hanging (2006 c.) Siggraph 2006.
Layzer Arthur. Cinema. Cited by [Baudouin].
> Morning Elevator (1973c.).
Lazzarini Robert. Morphing.
> Skulls, 2000. [Paul].
Leary Clover.
> Gay Gamete (2000). The work tells of sperm banks and homosexual people. Yougenics Page.
Leavitt Ruth Archives of Atari : I have been using the computer to make pictures for most of my career as an artist. When anyone asks me how I became involved with computers my retort is, "I married into it." My husband, Jay, teaches in the Computer Science Department at the University of Minnesota. Most of what I have learned has been through osmosis. As a grand student of Hans Hofmann having studied painting with Peter Busa it seems strange, even to me, to be involved with anything mechanical. My art studies were firmly grounded in abstract expressionism—dripping paint, house paintbrushes, and the attitude 'I know nothing.' It is quite a leap to a computer, a plotter, and conscious decision making. However, the change has been gradual and I feel I am combining both attitudes, abstract expressionism and constructivism in my work. My first encounter with computers in producing art was to experiment and create graphics with a program that already existed. I drew and shaded pictures on a cathode ray tube using a light pen attachment. The program had features which made it superior to drawing by hand. But after 6 months I was frustrated with it. Everything I drew so freely on the scope was ultimately resolved into a grid. ...".
< Artist and Computer. Ruth Leavit ed. Harmony Books 1976.
Alain Le Boucher : A physical distribution of emotions.
Le Bars Stéphane. CEO of SPFA (Syndicat des producteurs de films d'animation).
Lebel Jean-Jacques Wikipedia.
> Maison Rouge (2007 c.) [Demiaux] p. 39 comments "It was my first experience, in real time, with the difficulties of controlling electronic systems. The marvelous enthusiasm of the team supported the artist, who had often to be a genius plumber".
Le Berre Claude. A member of Incident.net group.
Leblanc Suzanne Artist and multimedia theorist.
Le Boucher Alain. Sculptor, astronomer (see astronomy) , he combines light and physical-computing, using micro-controllers. Galerie Lélia Mordoch. Shown also in Acabas shop (Paris).
- Important presentation (PDF)of this artist for his exposition in Tulle, media library Henri Rohmer (2013).
- Expo on spring 2013 (we comment).
- Exposition at Jaquet-Droz (spring 2012).
- Dream Catcher (2013). See on Youtube
- Unstable harmonies (2012). See diccan's note.
- L'astrolabe du Val-de-Reuil (1991). An interactive work about astronomy in public space.
- Note on Acabas website.
- More in French.
- More pictures on the gallery website.
Lebrun-Cordier Pascal. A member of Cricc ( Centre de recherches images, culture et cognition).
Le Chevallier Martin.
> Vigilance (2001). Video game about video surveillance and informing. [Moulon] p.84, with a picture.
Lecoq Estelle. Typography. Not done with digital tools, but using typographical elements. A kind of typewriter art.
Le Corbusier. Cubits painter, typographer, but mainly an architect. Wikipedia. Published a lot of books.
< Vers une architecture du livre. Le Corbusier : édition et mise en pages, 1912-1965. by Catherine de Smet. Zurich, Lars Müller Publishers, 2007.
- Quoted by [Berger-Lioret] p. 79, 83.
Hee-Won Lee : Infinity II.
Lee Hee-Won.
> Infinity II (2012) Presented in Gaîté Lyrique, 2012. It is the projected image of a water cascade, of which the flow is inversed.
Lee Jae-Min. Sculpture, kinetic art.
> Water Lights (2006 c.) Sort of animated sculpture, shown at Siggraph 2006.
Lee Liz. 2-D Digital imaging, digital photography, art and science. Presentation in ACM Siggraph Educational Committee
> Since the 90's
Leech Geoffrey N.
< A linguistic guide to English poetry. Longman 1969.
Leegte Jan-Robert
> BlueMonochrome.com (2008) . Image and comment in in Artpress2 Dart in the digital age, May-June-July 2013.

Jan-Robert Leegte: Blue monochrome.
> Scrollbar (remake) Computer projection, wood
> Blue Monochome. Video installation.
Leenhardt Roger. A cinema theorist. For him, according to [Murray] ellipsis forms the basis of cinema.
Lefevre Joseph. installation, new media work, web art, VJing, Live visual performances, design.
> Café de l'abattoir (1992), presentation to Siggraph.
Legaut Bernard, founder, with Lionel Barret of Gamr7 company, specialized in procedural creation of contents, specially urban environments.
Léger Fernand.
- Painter, frequently of machines.
> Ballet Mécanique (1924). A lot of ideas. An abstract film. [Popper 2 ] p.14. Video.
< Fonctions de la peinture Gallimard 1997.
- [Garaudy] develops Léger ideas on "the invention of the future".
Fernand Léger. Composition à la main et au chapeau (1927). Man's mind as a machine ? Perhaps. But no doubt, the keyboard, digital emblem, is alreadey there.
Lego.
- Some notes on Lego Art. (presently in French only)
- The Mindstroms bricks are a way to create art from robotic type elements.
< The Cult of Lego, by John Baichtel and Joe Meno. No Starch Press 2011 (A French edition in 2012). Includes a chapter on "Lego Art".
< Lego Starwars. The visual dictionary. Huginn and Muninn, 2009
- NXshield is a complementary brick.
- Quoted by [Berger-Lioret] p. 158 (Mindstorms).
Legrady George.
Linguistics, data base. [Popper 2 ]p. 152-156: five pages and pictures of works.
> Cobalt test on a Multitouch visualization wall (2008). Video.
> Sensing speaking space (2002).
> Pockets Full of Memories (2001). Installation and projections [Paul], [Popper 2], [Moulon], who gives a picture. Became (2003-2006) a collaborative project. Fondation Langlois page.
> An Anecdoted Archive from the Cold War (1994). Autobiographic non-linear CD-Rom, quoted with pictures by [Vroege].
- Quoted by [Berger-Lioret] p. 156, [Vroege].
Lemercier
Le Guay Eric.
- He has made, for years, a dense blog, Ma vie numérique.
Leguay Yann. He works on sound as a material. He cooperates with choreographers.
Leitner Bernhard. Architecture, installations, sound art.
> Soundcube (1969). "Movements of sound as tool to create and to characterize space. The Souncube allows one to achive this. 64 loudspeakers on each side of the soundcube. The sound is programmed to travel from loudspeaker to loudspeaker".
Le Lionnais François. A member of Oulipo and a founding member of Oupeinpo.
Leloup Jean-Yves
< Digital magma. De l'utopie des rave parties à la génération MP3. by Jean-Yves Leloup. Editions Scali 2006. Le mot et le reste 2013.
Lemaire d'Agaggio Nicole.
< La science et la métamorphose des arts. by Raymond Daudel and Nicole Lemaire d'Agaggio (eds.). PUF, 1994.
Lemercier Joanie. "I'm a visual artist, part of the visual label AntiVJ".
- Residence on school environment. On spring 2012, Cultures Electroni[k] presents her works in retirement home and school. More data. She looks for relationships between light and human perception.
> Light Canvas II (2011), by Joanie lemercier, Galerie Muriel Guépin (New York) With Projection Mapping. Shown at Show Off 2013.
> artMRK (2013), by Joanie Lemercier,
Le Meur : ASL3 still image. Still... but if you look at it long enough... it moves.
Le Meur Anne-Sarah. Digital artist. Teaches at University Paris Sorbonne .
> Oeil-océan (2005-2207). On Vimeo. In 2013, the work has been acquired by ArtAddict, an association of art collectors.
> Outre-Ronde (2003-2012) Video . About it, look at an interview of Anne-Sarah by the ZKM. She explains the kind of attitude she expects from her spectators, and finishes on a positively interrogative note about imperfection.
- Quoted by [Berger-Lioret] p. 76.
- Starting with a "lyrical abstraction" sensitiveness, Le Meur has felt the excitement and power of digital systems and programming. Exhilarated by the richness of the creation spaces so opened, she dared to launch concepts as "negative light ".
- "The images are abstract, but organic metaphors of a world both cellular and cosmic, very fleshly, minimal to the point where they become archaical, a sort of anti-semantic (pre-linguistic) vision".
- Anne-Sarah focuses presently on advanced creations, on the borders of art and sensorial psychology research. She has presented her ideas in Laval Virtual Laval Virtual 2009 (see the proceedings, which are not on line).
- She gets support by the Cube (Issy-les-Moulineaux), Interface-Z and the ZKM (Karlsruhe).
Lempereur Sébastien. Architect.
> Ananumérique (2000). Quoted, with picture, by Prospective in Asti 2001 proceedings.
Lenoir Timothy.
> Virtual Peace. Turning Swords into Ploughshares. (2008) Website. Is it art...
de Leon Guerrero Santiago . A member of Cyclophones group.
Leonardo. See Olats, Observatoire Leonardo des Arts et des TechnoSciences et revue (A full connection of the review at the Cité des Sciences de La Villette library).
Basic works (in French) :
- L'art "multimédia", by Annick Bureaud, 2004.
- La littérature numérique, by Philippe Bootz, 2007. A unique and substantial study, with some important ideas as the difference of two types of fragments assembly. See Bootz.
- L'animation numérique, by Verònica Camacho, 2008.
- La musique électronique, by Jean-Yves Leloup, 2011.
Lepage Robert. Scenographer. Wikipedia.
- European program of Robert Lepage for 2012-2013.
> La damnation de Faust (2001). Quoted by [Moindrot 2013], p. 200
< Robert Lepage, l'horizon en images. by Ludovic Fouquet, Paris, les 400 coups, 2005. .
< L'écran de la pensée ou les écrans dans le théâtre de Robert Lepage, a chapter of the collective book [Picon-Vallin].pp171-205, by Chantal Hébert and Irène Perelli-Contos, who contains also an interview of Ludovic Fouquet with Lepage.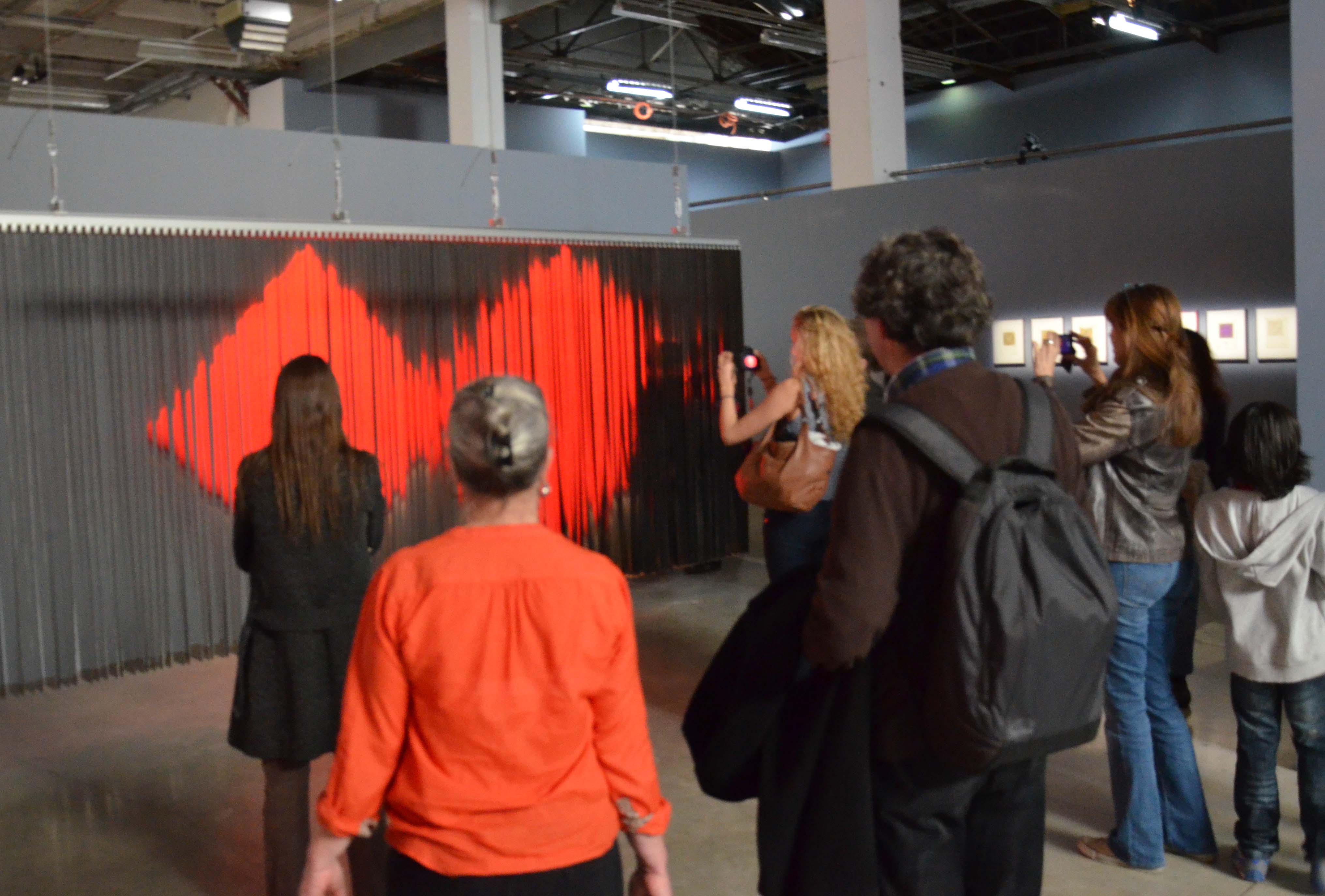 Julio Le Parc, at Palais de Tokyo.
Le Parc Julio [Popper 1] p. 153. A member of Grav.
- His exposition at Palais de Tokyo (Paris) in 2013. (Our post: The Second Life of Kinetic Art (Julio Le Parc).
- Read his manifesto "Cultural Guerilla ", march 1968.
Lepton.
> Lepton (1998). A demo film made by Medialab on the end of 1998, with a character using for the first time real time skinning en temps réel, See the Paris ACM Siggraph page.
Leroi-Gourhan André. Ethnologist, archaeologist, historian, philosopher. Wikipedia.
< Le geste et la parole. Tome I. Technique et langage, 1964. Tome II. La mémoire et les rythmes, 1965. Albin Michel.
- More in French.
Leroux Claire. ESIEA, human relations teacher. Arnum Laboratory.
> In the clouds Virtual experience of a matter (2010) by Nathalie Delprat, Claire Leroux and Sarah Fdili Aloui. Communication at Vric 2011. Online.
< Juger l'art . A collective book edited by Christophe Genin, Claire Leroux and Agnès lontrade (on line : introductive texts). Publications de la Sorbonne. No special accent on digital.
Lesbros Vincent. Page web University Paris 8. Group GAIV.
Julien Levesque
Lestocart Louis-José. Page evene Epistemology scientist artist. He signs papers in ArtPress. Curator of the Web Net Museum, where several of his texts are online.
< Théorie de la "prédiction". L'intelligible connaissance esthétique, 28 pages in Artmedia X, accessible online.
Leta.
- Laboratoire d'esthétique théorique et appliquée. Led by Marc Jimenez, Deputy directors : Anne-Marie Duguet and Bernard Darras.
Letellier David. Plastic artist, architect et musician (under the name of Kangding Ray).
> Three oscillating machines (work in progress on 10/2013)
> Show at Enghien in 2012, with Boedi Widjaja. Cited with picture in Artpress2 Art in the digital age, May-June-July 2013
> Versys (2011). Kinetic sculpture, or more exaclty a couple of sculpture, hang on opposite walls, and in conversation between themselves.
> Tessel (2011). Kinetic sculpture, presented June-July 2011 at Musée des moulages in Lyon (France).
Leton Xavier.
> Un et un pas de deux (2005). Series of images. Moves. (Bootz).
Leuk Michel. In 1980, takes part in the Digital Art (Grand Palais de Paris) show, organized par Bernard Demiaux.
Levesque Julien. Creative applications page.
> StreetViews Patchwork (2009). Minimally digital : an image composed with four horizontal stripes of different landscapes. Cited in Artpress2, Art in the digital age, May-June-July 2013. Comment by Dominique Moulon at Show Off 2013. : "This works goes in the same direction that Du Zhenjun, but with programming. Julien generates hybrid and global landscapes. He pieces landscapes together with their soul, because they are unique and will disappear, and we are the witnesses ot this landscape which nobody will even see again". (Our translation).
Golan Levin and Zachary Lieberman: Messa di voce.
Levin Golan [Paul] . A disciple of John Maeda. Generative Art. Fondation Daniel Langlois page. Formed the Tmema group with Zachary Lieberman.
> Reface - Portrait sequencer (2007) with Zachary Lieberman. Video mounting and interaction. 4 pages with pictures in [Bohnacker]. Quoted by [Berger-Lioret] p. 60, 156.
- Several works in [Cameron] (6 pages).
> Footfalls (2006) with Zachary Lieberman. Video and interaction. 4 pages with pictures in [Bohnacker].
> Tmema (2004) Commented on with a picture by [ Debatty et al. 2011].
> Amore Pacific Display (2003). for Frog Design, in collaboration with Zach Lieberman. A flagship store in Soho. Two pages in [Cameron].
> Segmentation and Symptom (2000). Painting. Voronoi graphs. 4 pages with pictures in [Bohnacker].
- For her exposition CODeDOC (2002, Whitney Artport), Christiane Paul asked twelve artists to provide a code, able to deploy and connect three points. [Greene] p. 157. Among them, codes by Sawad Brooks, Global City, for Saskia Sassen. Camille Utterback, Linescape.cpp , Golan Levin Axis and Martin Wattenberg Connection Study.
> Alphabet Synthesis Machine (2002), in collaboration with Jonathan Feinbert and Cassidy Curtis, for the American TV chain PBS. [Greene] p. 154-155.
> The Secret Lives of Numbers (2002). A website to travel amidst numbers. [Moulon]p. 32-33 , which gives a picture.
> Yellowtail (2002), commented by [Grau] with a color picture p. 348.
> Telesymphony (2001). Virtual reality.
> Yearbook Picture (2000). [Greene] p. 155.
> Audiovisual environment suite (1998) . Virtual reality, from 1998 to 2000.
- [Couchot 2007] 245 (with Zach Lieberman).
- "Golan's pedagogy is concerned with reclaiming computation as a personal medium of expression. To that end, his courses are designed to give students the confidence to program their own software creations from first principles. His studio classes focus on significant themes in contemporary electronic media arts, such as interaction design, computational form generation, information visualization, and audiovisual performance". (from his Vimeo page, where you will find also the video of one of his presentations on these topics at the "Art and code" symposium.
Levine Les. Sculptor, with TV sets. May be compared to Nam Jun Paik. 4 pages and a photo in [Youngblood].
> A cybernetic sculpture (1969).
> Iris (I968).
Levine Paula "Visual" artist, working in "locative media".
Levit Robert. A member of KLF design studio.
Lévy Bruno. Inria. Personal page .
- Video about mesh editing.
< Polygon Mesh Processing, by Mario Botsch, Leif Kobbelt, Mark Pauly, Pierre Alliez and Bruno Levy AK Peters / CRC press 2010.
Lévy Pierre. Wikipedia. A philosopher, author of a lot of books, some about the "cyber" world.
< Collective Intelligence. Mankind's Emerging World in Cyberspace. Cambridge, Perseus Books, 1997. This book inspires in depth Henry Jenkins in his book Convergence, which deals with transmedia.
- Video of a speech.
< Qu'est-ce que le virtuel ? La Découverte, 1998.
< Cyberculture. Report to European Council. Odile Jacob 1997.
< Nouvelles technologies intellectuelles, pensée et langage: à propos de "L'intelligence collective" of Pierre Lévy by Jean-Louis Weissberg. Terminal Review no 68, Summer 1995.
< De la programmation considérée comme un des beaux-arts. La Découverte, 1992. Rather philosophical.
< L'idéographie dynamique, vers une imagination artificielle. Découverte, Paris 1991.
Lévy Vincent. Artist, behavioral art.
> Fantômes (2007). Nine pages in [Aziosmanoff] including two pages of color pictures. .
Levy-Ranvoisy Francine.
< Manuel de dessin pour communiquer avec une population non alphabétisée. ACCT-Karthala 1987.
Lewis George. Trombonist and grand user of computers for this creation (jazz).
- Interview by Lawrence Casserley in Interagir avec les technologies numériques (Brussels, Contredanse 2004).
- "I conceive a performance of Voyager as multiple parallel streams of music generation, emanating from both the computers and the humans - a nonhierarchical, improvisational, subject-subject model of discourse, rather than a stimulus/response setup". [Edwards].
> Voyager (1993). Software tool for improvisation. Video on using this software. Comments in [Edwards].
Lewis Jason Edwards
> Vital to the General Public Welfare (2010c.), performed during the Chercher le texte festival (2013)
Lewis Matthew. Painter and scientist. By 2000, he put on line a link series on digital and generative websites.
< Aesthetic Evolutionary Design with Data Flow Networks. By 2000. Communication .
Lewis Tim. Animated sculptures. Flowers Gallery page.
> Indelible
> Shape of Space (1997)
Lewitt Sol Wikipedia. He is famed for his « structures » (the name he uses for his paintings or sculptures) based on basic geometrical forms, such as the cube, and netlike connected. They are not animated, then digital only in the concept. He is also a producer for other artists wolks.
< Paragraphs on Conceptual Art. in Uber Kunst/On Art. Dumont Schauberg, Köln 1974. "The Idea Becomes A Machine That Makes The Art" he said, and, more contemporary styled "The idea becomes the code that renders the art".
> Wall Drawing #231 (1974) The location of a quadrangle. Image and notice in [Glimcher]
Lexip. 3D peripherals.
Leymarie Frédéric Fol. Teacher and scientist. All aspects of digital art, including generative.
- Quoted by [Berger-Lioret] pp. 68, 141, 172, 219.
Lhotka Bonny Pierce.
> Fenceline (2003). Inkjet print.
Li Blanca.. Dance. Choreographer.
> Robot! (2013). A show with many robots on stage. With the robots of Maywa Denki.
Lia. Creation for iPHone with Open Frameworks
Lia. Painting, graphics.
> iPhone app (2010 c.)
> Uki-Ha (2001). Generative
Lialina Olia. Web art.
- Takes part in Printing Error show (2012-2014), at Jeu de Paume (Paris). Curated by Alessandro Ludovico, this online expo hosts international artists and collectives: Gregory Chatonsky, Benjamin Gaulon aka Recyclism, Olia Lialina, Julian Oliver et Danja Vasiliev, Jonathan Puckey, DuroSport Electronics, Do it yourself book scanner. Our (short) note.
< Agatha Appears (1997). Web art. Analyzed by [Kwastek] pp. 178-186.
< Digital Folklore, by Olia Lialina and Dragen Espenschied. Merz & Solitud, 2009.
> Zombie and Mummy (2002). Seris, since 2002, by Olia Lialina and Dragan Espenschied. [Greene].
> Circuit Bending with Gijs Gieskes (2000 c.) A video among others.
> IDENTITISWAPDATABASE (1999) by Olia Lialina and Heath Bunting [Greene].
> Will-N-Testament (1997). [Greene].
> Agatha Appears (1997). . [Greene].
> My boyfriend came back from the war (1996). [Paul] , [Greene] pp. 36-37 with photo.
Liang-Barsky. Clipping algorithm [Foley].
Lichtfront. Design agency. Environments for DJ/VJ.
> Augmented Sculpture (2010).
- Since 2001.
Lichty Patrick. Sculpture, lights.
> Pixel boxes (2006 c.) Wooden boxes with lights inside. Siggraph 2006.
> Terminal Time (1999) "multifaceted narration ". [Poper 2] pp. 134-140.
> Al Hansen's Car Bibbe II (1999). Happening. Video
Lidell Jamie. A techno-soul musician.
- Performance with three Kinect (Olivier Roy, A Nous Paris du 11/7/2011). Video.
Lieberman Jeff. Vibrations. Commented in [ Debatty et al. 2011].
- Formed the Tmema group with Golan Levin.
> Absolut Quartet (2008).
> Slink (2006 c.) Siggraph 2006.
Lieberman Zach.
- Works with Levin Golan.
- Several works in [Cameron] (6 pages).
> Footfalls (2006) with Golan Levin. Video and interaction. 4 pages with pictures in [Bohnacker].
> Reface - Portrait sequencer (2007) with Golan Levin. Video mounting and interaction. 4 pages with pictures in [Bohnacker].
- Youtube.
- [Couchot 2007] p. 245.
> Manual input session (2004). Combines sound and manually controlled images Video.
> Amore Pacific Display (2003) for Frog Design in collaboration with Golan Levin . A flagship store in Soho. Two pages in [Cameron].
Liebesman Jonathan.
> Wrath of the Titans (2012). Powerful special effects. Comments in Sonovision, May 2012.
Lieser Wolf.
< Digital Art. The world of digital art. Ullmann Publishing 2010. With a DVD.
Lieu multiple.
- Program, early 2012.
- Program, April 2012.
Ligeti Gyorgy. A music composer. Many tymes quoted by [Edwards]. Strongly algorithmic, but without computer use. Wikipedia. Quoted by erger-Lioret] p. 56.
> Désordre (1986). Studied at length by Edwards.
The Light Surgeons.
> LDN 24 (2010) . A large wall of LEDs, with news of the World. for the Museum of London. Quoted with a large picture by [Klanten]. Infosthetics page.
Lightwave3D. See Newtek.
Lim Yi Yong Charles. [Greene].
> alpha 3.4. (2002) by Charles Lim Yi Yong and Woon Tien Wei. Web and GPS.
> alpha 3.3. (2001) by Charles Lim Yi Yong and Woon Tien Wei. Web and GPS.
Limiteazero. Architecture and design.
> Interface (1999-2000). " The interfaces serie is the outcome of some experiments about the very meaning of the concept of "interface". Sometimes we only try to get a visual form from a navigation process, in other cases the final goal is to get people in touch with each other. The idea is to let people design the form of their navigation ".
Lin Patrick.
< Robot ethics. The ethical and social implications of robotics. Edited by Patrick Lin, Keith Abney et George A. Bekey. MIT Press 2012.
Lin Tan. Writer, multimedia, video. . An interview with Rhizome.
- Machine Based Reading, a presentation during the Chercher le texte festival (2013) with the two videos below:
> Bibliograhic Sound Track (2012)/
> The Ph.D Sound (2012).
Lindenmayer. See L-system.
Link Art Center. in Brescia (Italy). Center for the arts of the Information Age. Founded by Fabio Paris and Domenico Quaranta. It is a multi-functional center promoting artistic research with new technologies and critical reflections on the core issues of the information age: it organizes workshops, seminars, conferences and shows, forges partnerships with private and institutional partners, publishes books and networks with similar organizations worldwide.
- Fabio Paris - Before opening Link Center, he run a digital art gallery : http://www.fabioparisartgallery.com/ from 2000 to 2012.
Lintermann Berndt. Visualization of complex shapes, artificial life.
> SonoMorphis (1999). [Grau] p. 151-152. Picture of the work.
>ReConfiguring the CAVE (1997), by Jeffrey Shaw, Agnes Hegedüs et Bernd Lintermann (ICC, InterCommunication Center, Tokyo 1997)
Painting beings by Alain Lioret.
Lioret Alain Artist, computer scientist, Professor at Paris 8 University.
< L'art génératif. Jouer à Dieu... un droit ? un devoir by Pierre Berger and Alain Lioret. L'Harmattan 2012. See summary and complements.
- Wikipedia, Publications and conferences (until April 2006). Quoted by [Berger-Lioret] in several pages.
> Galatema (2010) , a project combining the precedent works. Quoted by [Berger-Lioret] p. 181.
> Artificial Intelligence Nodes module inside Blender . (2008). Video of one his interventions.
> Painting beings (2005 c.) Automata and generative art. Video on Youtube.
< Emergence de nouvelles esthétiques du mouvement. L'Harmattan 2004.
- Co-founder of Les Algoristes. Member of the board Paris ACM Siggraph.


Lisberger Steven.
> Tron, The Legacy. (2011). See French version. Comments [Phillips] : "Tens of millions of people participated in the transmedia marketing campaign, helping the film to rake in nearly $400 million worldwide".
> Tron (1982) Film by Steven Lisberger (Disney). The first feature film using computer generated images. About this version history, see Vikia (information given by Gilbert Dutertre).
- Quoted by [Berger-Lioret] p. 88. More in French.
Liu Victor
> Children of the Bureaucrats of the Revolution (2002) Based on Quake, open source game fostering a creative use. [Greene].
> Delter (2002) Software to set out what is "between" film images.
Live Planet. Wikipedia: " a production company that invests in content for television and new media platforms. It was founded in 2000".
Lizvlx. A member of Ubermorgen group.
Lleo Juan Antonio. Creative Insomnia page.
Printed images, algorithms. And electroacoustics.
> Geometria 6P8C (2000). Geometrical prints. Shading.
LMQTP.
- Present in 2012 a Synesthésie (Saint-Denis, Ile-de-France). The communiqué.
Lobstein D.
< Les nouvelles images. Introduction à l'image électronique. by D. Clayssen, D. Lobstein and J. Zeitoun. Dunod 1987.
Lochon Pierre-Yves. Founder of the Clic network, for innovative museums. Interview by Annick Hémery in Sonovision 5/2011.
Locus sonus. Research laboratory (Aix-en-Provence, Nice, Marseille). Coordinated by Jérôme Joy and Peter Sinclair.
- Video of an intervention of Nicolas Bralet with the Locus sonus group. (Dec. 2007).
> Locustream Microphones ouverts (2009). Networked sound creation . [Moulon] p. 75 with a photograph.
Loeffler Carl. Web art, communication.
> Send/Receive (1977). Satellite netwok. [Paul].
Loesslein Roland. Aka We ain't plastic.
> Digging in the crates (2008 c.). Photos in [Klanten]. A way of mining into records.
Lohse Paul . [Popper 1] p. 203. Op art, geometrical abstraction.
> Fünfzehn systematische Farbreihen mit vertikaler und horizontaler Verdichtung (1950). Produced from 1950 to 1967. Video.
Loire (pays de). A French region. See our geograhical guide.
Lomas Andy.
> Cellular Forms (2010 c.). A demo film,on Vimeo.
> Aggregation 22 (2006 c.) Bio art, with heavy processing resources. Organic development rules. Siggraph2006
Lombeyda Santiago.
> Emergence order (2006 c.) Escher-like. Siggraph 2006.
London Barbara.
> Stir-Fry (1997) "A Video Curator's Dispatches from China". Comments in [Greene] p. 61.
Longavesne performing with one of his printers.
Long Kiel. Interactive experimental music. The general frame of his work : The static organ (2009) Page Web.
> Mind Pool (2011). Interactive installation.
> Mind Drops (2010). Video installation.
Longavesne Jean-Paul Artist, professor at Ensad. He created a painter robot and a large printer. Personal website
> Fabrics of Life Workshop: Evolution (2008) Symposium he organized with Ensad and Institut Curie, may 2008. Webpage. Video.
> Imprimantes (1996). He made two large printers, presented in Montpellier Conference, 1996.
> Virtual Scape (1995).
> Big Bang 1 (1995).
- [Popper2 ] p. 221-225, with photographs of Virtual Scape et Big Bang 1.
- More in French.
Longson Tony.
> Cheetos (1978) Until 1986. Black and white prints on plexiglass.
A photograph by Longuet
.
Longuet Alain Digital artist, photographer, video maker. President of Commission des oeuvres d'art numérique of Scam. Member of Les Algoristes.
In 1999 he created with Patrick Morelli the daily page "Le crépuscule des jours", still active on 10/26/2010.
> Saut dans le vide (1896 c.) Choreography of sound objects, directed by Alain Longuet, with Mark Tompkins and Hélène sage. Video .

Lopes Damian.
> Project X (1997). Poetry and hyperlinks. Quoted by [Lopes].
Lopes Dominic McIver.
< A Philosophy of Computer Art. Routledge 2010.
Lorenz Hilary.
> Cellular Study 3 (1999). Prints mounted on Plexiglass.
Loring Katia Museum of contemporary art, Chicago.
- Siggraph Art Gallery 2006 presentation coordinator.
Lorrain Denis
< Interpolations by Denis Lorrain in [Pottier].
Lost. Game and transmedia by ABC.
Louise Alexander. Gallery (Paris and London).
- The gallery at Art Paris 2013. They are to be present in Slick Brussels.
Louise Frank II. Choreographer and composer. He uses the computer to write simultaneously music and choreograhy. And puts sensors on the dancers.
> Instinct Paradise (1998).
Lovejoy Margot. Since the 1960's. Light art, communication and web cooperation. Wikipedia.
> Turns (2001) A sort of game table for four players [Popper 2] 324-329.
< Postmodern Currents. Art and artists in the age of Electronic Media. UMI Research press. London 1989, with republishing.
Lovelace Ada (1815-1852). She saw that computers would be able to generate images and compose music, and writes (approximately, according to our memory) "The machine could compose scientifically and on elaborate way, music scoresof any lenght and complexity level.»
- Video of a conference about her.
Lovelace Caden . "A net artist, performer, writer and developer based in Falmouth, Cornwall. His recent works include the curatorial new-culture project ƒAULT, and the never-ending video-art site GIFDRIFT.BIZ. His interests include alt lit, internet culture, and non-literary digital text. He is emphatically not interested in high-technology nor in the techno-spectacular, preferring instead to focus on the understated, the one-off, the simple, and the secret." (His presentation in the symposium Chercher le texte. Locating the Text in Digital Literature (Paris, 2013). The program. ).
> The Fetch (2013.). Performance with Jérôme Fletcher during Chercher le texte festival (2013).
Lovell Robb and Mitchell John. Quoted by [Berger-Lioret] p. 78, and [Whitelaw].
> Eidea (1995). Interactive environment design of emergent art Colorado.
>Anamorphic Ambassador (1992). Performance.
Lovink Geert. Theorician of tactical media. One of the two founders (with Pit Schultz) of the distribution list Nettime.
- His Diagonal thoughts website.
Loyer Erik. Multimedia
> Upgrade Soul (2012). Written and Illustrated by Ezra Claytan Daniels. Original Score by Alexis Gideon. Developed by Erik Loyer. An immersive science fiction graphic novel for iPad, iPhone, and iPod touch—the first project built with the Opertoonity digital comics engine that complements the reading experience with fluid navigation, interactive 3D, and dynamic music.
> Strange rain (2011)
> aug 6 1991 (1996). An interactive CD-ROM in which users experience a poem from the "inside out."
Lozano-Hemmer : Ah, how strongly people love to plain, even if the artists intention was to make them sensitive to surveillance dangers!
Lozano-Hemmer Rafael.
- Photographer and graphic artist. Complex composited works. And large interactive installations. Six pages in [Cameron].
> Trackers (2011). See the French version.
> Please empty your pockets (2010). Commented on with works by [ Debatty et al. 2011].
> Solar Equation (2010). Relational architecture. Presented within "Québec Numérique" at Gaité Lyrique, Paris 2012.
> Sandbox (2010). Relational architecture. Presented within "Québec Numérique" at Gaité Lyrique, Paris 2012.
> Tate Shots (2008) Video .
> Amodal Suspension (2003). Relational architecture.
> Frequency and volume (2003). Installation with projected shadows [Moulon] p. 16 with a picture.
> Body Movies, Relational Architecture No 6 (2001). Presentation in a public garden [Graham] p. 7.
> Under Scan (2001) Interaction and image analysis. [Moulon] p.88-89 and photo. First presentation on Trafalgar Square.
> Vectorial Elevation : Relation Architecture 4 (1999). Until 2004 - [Popper 2] p. 210-214.
- Quoted by [Berger-Lioret] p. 138. More in French.
Lubell Bernie. Interactive works.
> Cheek to cheek (1999). [Grau] shows the work. .
. Lucas George, Lucasfilm. Animation. Wikipedia.
> Star Wars. Several notes in [Rose], a full chapter in [Jenkins].
< LEGO Starwars. The visual dictionary. Huginn and Muninn, 2009
< The Lessons of Lucasfilm's Habitat. Extract reprinted in Reprinted with comments in [Wardrip-Fruin 2003].from From Cyberspace First Steps, By Chip Morningstar and F. Randall Farmer,
- More in French.
Lucas Jesse A member of the Multimedia group Sati.
Luciani Anne. Assistant engineer, CNRS. A member of ERIS, a team of CMH.
- Former president of Afig.
Ludicart . A group formed by Jean-Robert Sédano and Solveig de Ory. Interactive and musical digital art.
> Les roues du chant (2010). Homage to the Duchamp's readymade, six bicycle wheels set on plinths sing a sort of Gregorian chant. A game to compose music in cooperation
> Tubulophone (1993)
> Pianoptique (1977).
Ludovico Alessandro. Member of the Ubermorgen group. Artist and art critic. Transmediale webpage.
> Face to Facebook (2011) by Alessandro Ludovico and Paolo Cirio, the third work in a series that began with Google Will Eat Itself and Amazon Noir. A note in Random Magazine.
< Post Digital Print. Onomatopee. 1977.
Luesebrink Marjorie C.. Also known as M.D. Coverley. Writing. Fiction, web fiction.
> Endless Suburbs (1999).
Luetgert Sebastian.
>textz.com (2002). [Greene].
Lui Justin.
> Openings (2009). Interactive storefront of Lace (Los Angeles Contemporary Exhibitions). by Andrea Boeck, Jihyun Kim and Justin Lui. 2 pages in [Klanten].
.
Lukowicz Paul . Professor, University of Passau. His blog.
- Communication of 16 pages in [Adams] : Advances in expressive animation in the interactive performance of a Butoh dance. by Jürg Gutknecht, Irena Kulka, Paul Lukowicz andTom Stricker.
Luksch Manu
> Faceless (2002). Feature film about video survellance. [Moulon] p. 84-85 with picture. .
Lumiscaphe.
> Lumiscaphe (2000 c.) 3D software.
Lund Andreas. Communication : Evolving the Shape of Things to Come.A Comparison of Interactive Evolution and Direct Manipulation for Creative Tasks (for the Generative Art 2000 conference).
Lussan Edouard.
> Opération Teddy Bear (1996). Interactive comic strip .Bootz.
- Quoted by [Berger-Lioret] p. 54.
Lutton Evelyne. Inria, Research director. Fractal specialist.
< ArtiE-Fract, used by Anabela Costa, visual artist. by Evelyne Lutton and Anabela Costa. Communication at Computational Aesthetics in Graphics, Visualization and Imaging (2012). D. Cunningham é D. House (Editors).
< Artificial Evolution 10th International Conference, Evolution Artificielle, EA 2011, Angers, France, October 24-26, 2011, Revised Selected Papers Editors: Jin-Kao Hao, Pierrick Legrand, Pierre Collet, Nicolas Monmarché, Evelyne Lutton, Marc Schoenauerr. On line by Springer
< Blue Grass/Autumn (2012) with Emmanuel Cayla. Exposed in Laval Virtual.
< Fractals, Theory and appplications in engineering, With Michel Dekking, Jacques Lévy Véhel and Claude Tricot, Springer 1999.
< Fractals in engineering, with Jacques Lévy Véhel and Claude Tricot (Eds), Springer/Inria 1997.
Luxereau Christophe. Cinema and still pictures.
Luxereau. Vanity, Sevres blue.
> Vanités, bleu sèvres (2009). Shown at Show Off 2013.
> Ombre (2009).
.
Luxologie. Software provider.
> Modo (2000 c.) Software.
Lyon (France). See our Geography.
Lyotard Jean-François. A post-modern philosopher, typically "french school", and not indifferent to art issues.
-Curated the "Les Immatériaux" exposition at Centre Pompidou (1985).
< Discours, figure. Klincksieck 2002.
< Le postmoderne expliqué aux enfants. Livre de poche 1993.
<La condition postmoderne, Editions de minuit 1979. AH No 82 .
Lytro
- Article, 10/2011 (by Les Numériques). Our post.
---