---
Siggraph 2013 : a practical guide to plan your visit
Provisional version, subject to be revised.
Diccan's precedent posts and references about Siggraph.
Venue : Anaheim Convention Center. Dates : Conference : july 21-25, - Exhibition : july 23-25. Note that the exhibition last only three days, then don't wait the end to pay it your visit.
The French chapter of Siggraph will prepare the event, notably on june 5 (Paris) , with The French selection at Siggraph 2013. You will find all official information on the international Siggraph website. But it is rather formal and hyped. Then let's try to propose a synthetic preview to help your scheduling (or decide not to come at all). We will take an artistic standpoint, in the "academic" sense more than the "industrial" sense : in cinema and game industries, an artist looks more like a craftsman working in a cublicle and taking its part in a wokflow than to Van Gogh painting alone in a shabby hotel room.
Animation cinema remains the core business of Siggraph. It is dealt wih all its creative process, from pure research to film presentations, including the production, business and jobs aspects.
Three general offers top the program :

- Awards. One of them, The Distinguished Artist Award for Lifetime Achievement in Digital Art rewards an artist who has created a substantial and important body of work that significantly advances aesthetic content in the field of digital art." Presented for the first time in 2009, it has been awarded to mainly to cinema and image algorists (artists who use their own algorithms) Roman Verostko, Lynn Hershman Leeson, Yoichiro Kawaguchi, Charles Csuri, and Jean-Pierre Hébert. The other awards target scientists or technicians, or significant dedication to the community.

- Keynotes session. Come and listen to the industry stars (we will elaborate later).
- Reception. Drink a toast and do networking.
Now let's follow the different kinds of topics.
R&D
Research is covered formally by the technical papers (see our separate analysis), which may be summed up : automate the creation work more than assist it. But one session is oriented towards creating artists,
Design & Authoring, chaired by Jehee Lee.
Strongly recommended by all visitors we know, the Technical papers fast forward. A highly compressed summary of of the technical papers. The whole conference in twho hours. Don't miss it to finalize your schedule.
Less formally, communications not mature enough for the main technical sessions are presented as posters. There you find a find fresh ideas well crowded place. Other informal presentations are grouped in Birds of a feather. Informal presentations, mainly technical. And a special categorawards are presented to young scientists in the Student research competition.
Science is also covered by colocated events :
- ACM Siggraph/Eurographics Symposium on Computer Animation. Technical. As far as we know, it's the first time that Europe is so explicitly partnering on the US territory.
- High-Performance Graphics. You see what I mean.
- Digital Production Symposium (DigiPro). Bring your business model and compare (or perhaps, something about workflow and HR ?)
- Expressive. This conference merges several events, precedently distinct. Though quite technical, it the artistic creation(with a technical feel, of course, if not directly coding), with topics as Computational Aesthetics , Sketch-Based Interfaces and Modeling and Non-Photorealistic Animation and Rendering (NPAR) This fusion may be thought as a difficulty for thei precedent separate organizationsto gather enough meaningful contents separately. NPAR, for instance, tended to concentrate on scienific or practical (e.g. medical) illustration more than art.
Emerging technologies shows also research, but is more hardware oriented. An exhibition of student or corporation projects with pilot implementations. With a lot about interaces and interactions, but this year with a particular variety of ideas. Siggraph Mobile is dedicated to advances in mobile technologies.
Other forms of meetings complete the scene :
- Studio. Play with advanced technology coming on the market.
- Talks. Less formal than papers, latest developments before publication, present ideas that are still in progress,
- Panels. Moderated discussions about topics in the air. But beware, in such a monster meeting, you can have 1000 attendants in an apparently innocuous topic.
- Courses. Mainly technical of course (if punning is allowed from a critic). But some tutorials may be useful even to artists dipping their first toe into the graphic ocean, for instance : introduction to compuer graphics, mobile game creation for everyone (with pacific intentions only), advances in interfaces for musical expression, and even a practical guide to Art/Science collaborations.
- Geek bar. Have a drink near the screen (not above the keyboard, please). And, ass they say practice "real-time human networking, with streaming content from the session rooms, wireless access and comfy chairs." Are blubees welcome ?
Films and peformance
Computer animation festival. A grand classic of Siggraph. Let"s copy the organizers hype : "Computer Animation Festival celebrates its 40th year as the world's leading festival of the most innovative and accomplished computer graphics. An internationally recognized jury receives hundreds of submissions and presents outstanding achievements through four different programs running over four-days." Wow ! We must say, having attended it several times, that it is a great moment. It was perhaps more exciting in the 1980-1990's, when animation was each year showing astounding novelties. Why not hope that this year will again break really new ground ?

- Production sessions. A complement of the festival : artists and experts explain the how to.
- Dailies. Short animations.
- Real time live. 90 minutes of demonstrations of interactive visuals. May be a major attraction of this Siggraph. We must say that, for what we have essen of reatl time live, we are still unconvinced. There is some contradiction on the tempo or real time and the necessary delays of design and coding. But why not ...
Art

This aspect of Siggraph is less focussed on cinema, and opens (some years widely) on other graphic genres : painting ans sculpture, sometimes of architecture or interactive devices

Art gallery. An art exposition, mainly o. On the last years, our correspondents regularly indicated the absence of really engaging new works. The 2013 edition, labeled XYZN: Scale, "draws attention to a key critical affordance of computer-based authorship: the ability to iteratively scale our digital representations at will: in-out-up-down, back and forth, + and -. These core functions enable us to change size and location over time, and at different degrees of resolution." This looks quite in line wih the present cross-media and transmedia wave. It will at least interesting to see how the curators will manage to show such scaling in the rather restricting frame of a gallery show.

Art papers. This is traditionally the discourse complement of the gallery. Artists, notably those selected for the gallery, present their projects and the techniques used. This year, it is parted into two sessions : Early Pioneers of Electronic Art and Hybrid Media, Contemporary Practice. The latter is in line with the transmedia orientation of the gallery. A reception will follow, offered by Leonardo, who sponsors the whole set of papers.
Business and jobs

Exhibition. It was more impressive in the last century, when graphics needed special hardware and costly stations, if not goggles, datagloves and 3D mouses. Software is today the specific market of Siggrah, in a world populated with laptopts, tablets and smartphones. But each year, the major providers rival wi impressive stands. A spectacle in itself, if you are not a user. Of course, exhibitors, who make a major party of the show's income, have opportunity to selle their ware in the Exhibitor Tech Talks and, if you are a present or potential user, these talks will perhaps be the bone marrow of your trip.

Job fair. For employers, job seekers and (why did they add that ?) casual networkers. For a lot of "artists" (see above), it is a prime motive to visit the show.
Business Symposium, for content creation executives. Not directly for artists... though some artists may be excutives, and some executive may remain artists in spite of their financial responsibilities.

To complete our tour of the official program :
- ACM Siggraph organization events. A little of everything, the holdalll for things that could not enter the rest of the program.
- Anaheim. Don't forget that you are in the Disney kingdom. See geographical guide.
We can notice the absence of some topics frequently in the air nowadays :
- Tranmedia and spreading medias. The words are not said, but the thing is present in several sessions, as it will be in many mindsn among those who look to the dramatic evolution of our arts and industries wih the generalization of the "second screens" an social media.
- Brain to computer communication and Bio-art. These topics remain at present mainly confined in laboratories. It may be reassuring.
- 3D, which made the show some five years ago, are now quite put aside. Is it now mature... or already outmoded ?

To conclude :
- It's now beginning late to reserve a hotel
- Set aside a budget of at least 2000 euros, for travel, accomodation and conference fees ; you may spend less if you engage as stutdent volunteers (but for this year it is far too late).
- Remember that summer in southern California is really hot.
- If you can stay a little longer, or take a half-day break between sessions, enjoy Anaheim, a high place for entertainement parks, and Los Angeles, which is just around.
DICCAN'S PARTNERS:


Paris ACM Siggraph, the French chapter of ACM Siggraph, worldwide non-profit organization of computer graphics.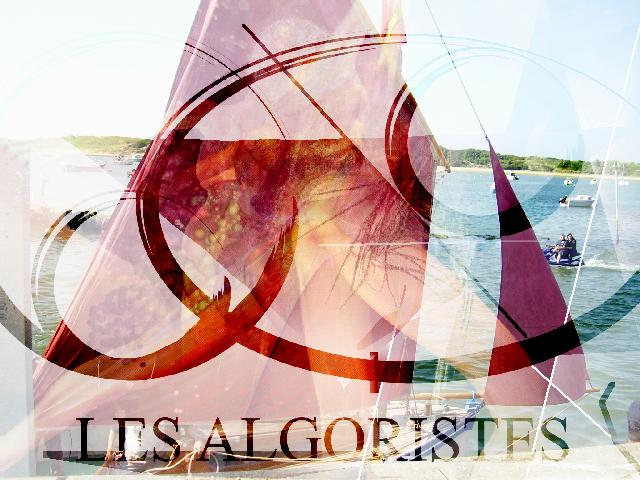 Les Algoristes, an association of artists using their own algorithms in their work.

Galerie Charlot An important supporter of digital art.