---
Darko Fritz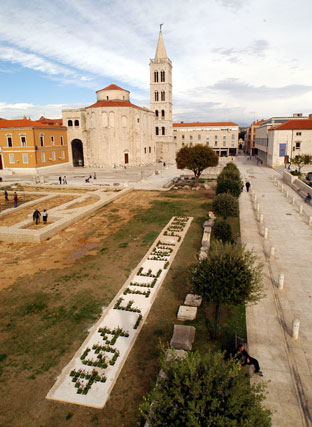 Horticultural unit: 404_FILE_NOT_FOUND (2003
See His website
An artist, independent curator and researcher. His work bridges over the gulf between contemporary art, media art and network culture, taking up topics such as the glitch, error, and surveillance. Recently he has been developing horticultural units in public spaces. His curatorial work and research on New Tendencies and early computer art have found expression in exhibitions at Neue Galerie Graz (2007) and ZKM (2009), see a post in Bit.

. In 2010, he started a research on the digital art origins in the Netherlands. See description.
< La notion de "programme" dans l'art des années 1960 - art concret, art par ordinateur et art conceptuel. 14 pages by Darko Fritz in [Lartigaud]. This text is available online.
Horticultural units :
> 204_NO_CONTENT (2007) Cacti and lava, 3.6 x 31 m, webpage.
> 404_FILE_NOT_FOUND (2003). Flowers, gravel, 2.5 x 25 m.webpage.
> The Future of Nostalgia (2002). 9 x 9 m. webpage.
Some early works
< Skip Question (1996). Telefax action [aprox 40 min.] . installation 350 x 120 x 40 cm [each fax print 300 x 21 cm]. Installation view at Planet Art, Hengelo. Webpage.

< End of the Message (1995 - 2000). An interactive site-specific installation, Rijksmuseum Twenthe, Webpage. A selection of twelve artworks from the Rijksmuseum Twenthe-collection were put on display. These were original paintings and drawings made in Europe during the last decade of the 16th, 17th, 18th and 19th century ('nineties'). Quoted by [Vroege] with a picture

Within this setting, there was a telefax action. A roll of paper, four meter long, recording half an hour fax-modem communication (programmed compouter was sending the message at programed time), came out of the fax-machines. The typographic images printed on it read No Value, Value on and End of the message..

A convex mirror reflected the installation space. A video camera had the space under constant surveillance and displayed the recent situation on the monitor in the room. This video-link was used as security camera system and an exhibition period of one month was recorded. There was a warning sign in the room saying that a security camera was on.
The selection of photos from the video archives were displayed at the dedicated web page
This project was realized in seven phases from 1995 to 2000. The seventh phase consisted in archiving the entire project, as at this web document and printed publication and 13 minutes video. The interactive DVD was published in 2005 and consists of 3 hours and 13 minutes of video material.
< Measure for Measure (1994). Site specific installation with computer driven laser projection
3 x 4 x 2 exhibition at Arti et Amicitiae . Amsterdam Webpage.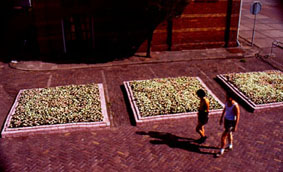 Keep the frequency clear.
< Keep the Frequency Clear (1994). Fax action / closed circuit video / internet document / webcast [failed] . Corridor, Triple X festival, Amsterdam. Webpage.
< Recycled Twins (1991-1993). Photography of computer graphic (1991, Amiga), sanded glass . frame diam 40 x 5 cm. Webpage

< La strategia del ragno (1990). Digital photo [transparency], wood, light . 100 x 60 x 30 cm. Webpage.

< Cathedral (Katedrala) (1988). Computer-generated environment, performance, Boris Bakal, Darko Fritz, Stanko Juzbasic, Ivan Marusic and Goran Premec. Webpage. included among other following digital components:
- six computer synchronised backprojections (648 slides)
- four computer synchronised projections, at performer's body, blending (8 slides)
- ten computer synchronised projections and backprojections at the scieling (20 slides)
- performer's stage with brainwave (electroencephalograph) / MIDI transducer
- photo sensor coupled to Voltage / MIDI converter