---
Fabrics, Fashion, Couture, Wearable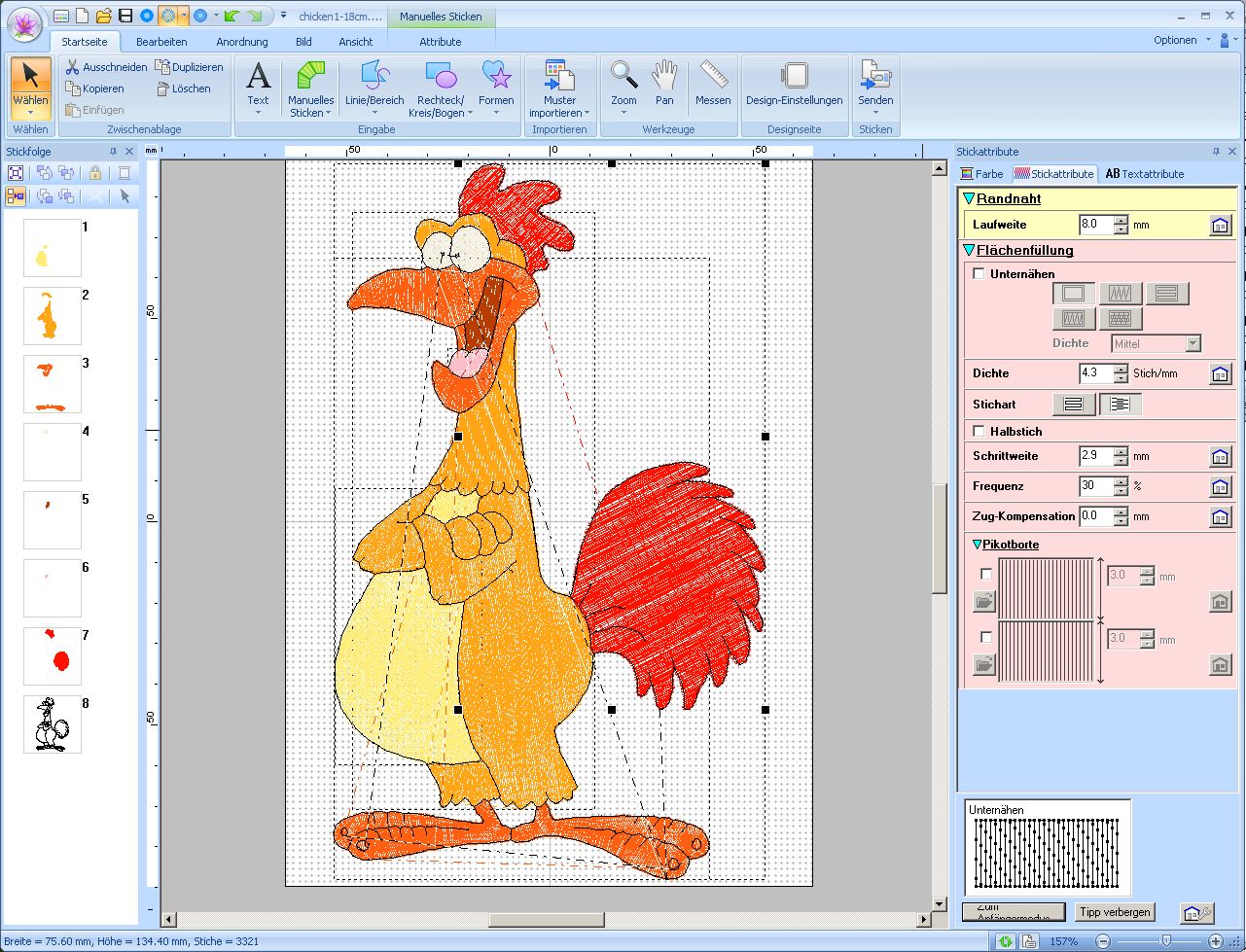 Brother provides software to prepare embroidery on its machines
Last revised 8/31/2014. Return to Major concepts.
- Our posts and references.
and etextile (quoted in the book below).
Note also: Dance (Gourfink). Mocap (animation). Some works at Boston Siggrah.
All the artists we know of on this specialty are listed in our Index, with direct link on their Diccan's item. On summer 2014, we list 7 artists.

1. Representation of fabrics
< The Intricate Dance of Fabric and LIght, by Szymon Rusinkiewics. CACM 11/2014
< Design Preserving Garment Transfer by Remi Brouet, Laurence Boissieux and Marie-Paule Cani.
- in [Magnenat] you will find :
. a 18 pages chapter, Cloth Simulation, by Pascal Volino and Frédéric Cordier,
. a 20 pages chapter, Rendering of skin and clothes, by Neeharkia Adabala
- For [Ebert], it is a case for 'hypertexture.

2. Digital devices integrated in fabrics (LED notamment)
< From Electric Devices to Electronic Behaviour, by Stijn Ossevoort, in [Adams], takes mainly as example "wearable dreams" clothing.
< Research at Koean KAIST (2017)
< Textile Visionaries, Innovation and Sustainability in Textile Design, by Bradley Quinn. Publisjed by Laurence King, 2013. Note that Laurence King publishes a lot of books about fashion.
- Note by Hervé Fischer,
- Note by Semageek

3. (Haute-)couture as a digital art
- 1st Fashion and Tech Week, Paris 2014
- Digital techniques for knitting. (to see large figures and full detail, see http://www.cemyuksel.com/research/stitchmeshes/ and click on the images; beware, horizontal scroll ! !).
- See Hussein Chalayan.
- Les nouveaux ateliers. Customized clothes with measurements taken by yourself with a 3D scanner
- Cybercouture .(10/2/2011). Difficult to see it they present projects or actual realizations.
- Many firms provide products for laser fabric cutting.
4. Varia
Embroidery. With larger or smaller industrial productivity, several machines let today make embroidery from any document of .jpg format. Among other shops, this service is available at Duthilleul et Minart in Paris.
You can also find sequin embroidery machines.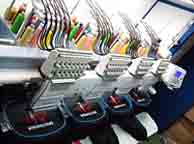 Embroidery : serial assembly of machines (a SGP document).
- A website about lace.
- See also :
< Textile Futures. Fashion, design and technology, by Bradley Quinn. Berg, Oxford, 2010.
< String, Felt, Thread. The Hierarchy of Art and Craft in American Art. by Elissa Auther. University of Minnesota Press, 2010.
< Technotextiles. Revolutionary Fabrics for Fashion and Design, by Sarah E. Braddock and Marie O'Mahony, Thames and Hudson, London, 1998.

- A quotation from Proust (we don't dare to translate),
- "Sauf à ces moments d'involontaire fléchissement où Swann essayait de retrouver la mélancolique cadence botticellienne, le corps d'Odette était maintenant découpé en une seule silhouette cerrnée toute entière par une "ligne" qui, pour suivre le contour de la femme, avait abandonné les chemins accidentés, les rentrants et sortants factices, les lacis, l'éparpillement composite des modes d'autrefois, mais qui aussi, là où c'était l'anatomie qui se trompait en faisant des détours inutiles en deçà ou au delà du tracé idéal, savait rectifier d'un trait hardi les écarts de la nature, suppléer, pour toute une partie du parcours, aux défaillances aussi bien de la chair que des étoffes. Les coussins, le "strapontin" de l'affreuse "tournure" avaient disparu ainsi que ces corsages à basques qui, dépassant la jupe et raidis par des baleines, avaient ajouté si longtemps à Odette un ventre postiche et lui avaient donné l'air d'être composée de pièces disparates qu'aucune individualité ne reliait. La verticale des "effilés" et la courbe des ruches avaient cédé la place à l'inflexion d'un corps qui faisait palpiter la soie comme la sirène bat l'onde et donnait à la percaline une expression humaine, maintenant qu'il s'étaIt dégagé, comme une forme organisée et vivante, du long chaos et de l'enveloppement nébuleux des modes détrônées".
"On sentait qu'elle ne s'habillait pas seulement pour la commodité ou la parure de son corps ; elle était entourée de sa toilette comme de l'appareil délicat et spiritualisé d'une civilisation" (Marcel Proust, A l'ombre des jeunes filles en fleurs).

- Singer sells the MIT 700 knitting machine, with a computer in 1990.
- Pfaff was selling a computerized embroidery machine, the Creative 1473 D in 1989 (Advertisement in La Maison de Marie-Claire, 5/89).
DICCAN'S PARTNERS:



Galerie Charlot An important supporter of digital art.