---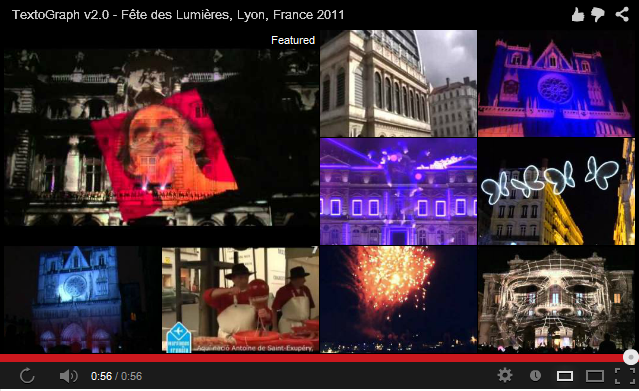 Digital Creation in Auvergne Rhone-Alpes (France)
Auvergne is The country of Gerbert (the first French algorist and Pascal (philosopher and mathematician).
The Region is active on the digital field: University of Lyon, several institutions in Grenoble. Its digital planning for 2011.
- Regional data base (not specifically digital).
Annecy (Haute-Savoie): Annual festival of Animation film, and Mifa salon (market).
Avenières (Isère). Multmedia projects on Walibi park.
Bourgoin-Jallieu (Isère): Electrochoc festival. Data and a video about Electrochoc#8 (2013).

Clermont-Ferrand (Puy-de-Dome)
- ECM.
- Festivals: Musiques démesurées, Vidéoformes.
Grenoble (Isère):
- Festival Lumière on the Bastille (a citadel, dominating upon the City).
- Automata museum.


Lagorce (Ardèche). Festival L'art des corps.
Lans-en-Vercors (Isère). Festival Hadra/Trance Festival.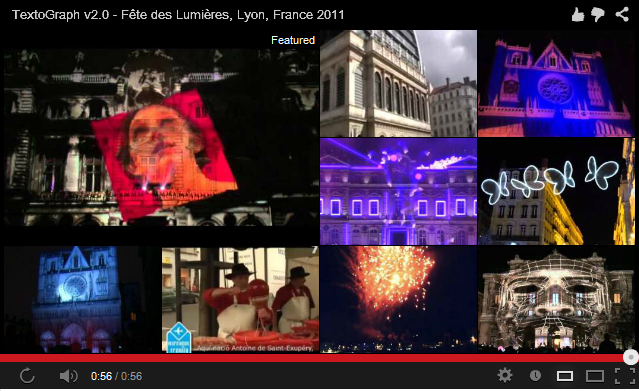 Lyon, Light Feast, 2011. Click for the H+ Gallery video
Lyon.
- Mirage Festival 4h edition 2016. Audiovisual, multimedia performances.
- Lyon (France), multimedia in public space (Digitalarti)
- 2012 Biennale. Report by Dominique Moulon.
- 21st century architecture, notably digital, in Lyon Confluence.
- Astronomical clock. Video
- AADN. An art center for everybody in the district.
- Media library, digitally advanced (Eric Le Guay at Baume-les-Messieurs, 5/6/2011).
- Galerie H+. Opened on 11/11/11. Specialized in digital art. It presents works using the technology as a new media in the realms of art, design and event special event management.
- Musée de l'imprimerie (Printing museum).
- "Photoportail" project by the Town public library.
- Laboratoire ouvert lyonnais.
- Festival "Nuits sonores" (Sound nights)
- Fête des lumières (Lights fest), on the beginning of December. For 2012, see Sonovision Broadcast, Jan. 2013.

Saint-Etienne. JIM, Journées d'informatique musicale (Computer music days).
Saint-Nazaire le Désert (Drôme). "Désert numérique" festival.

Valence Tracesfestival (e)mergence visual arts/music/technologies.
- Mobile cameras festival. http://www.lux-valence.com

Vulcania. Attraction park, with some multimedia.