---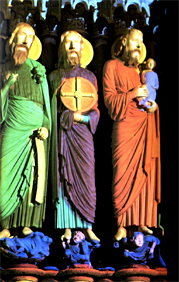 Chartres: augmented reality on the Cathedral.
Digital Creation in Centre Val-de-Loire (France)
Amboise (Indre et Loire). Leonardo da Vinci museum (at Clos Lucé), with models of his machines, done with IBM support. You can prepare your visit on Internet.

Bourges (Cher)
- Festival and arts center Bandits-Mage animated images and new media).
- Astronomical clock (St Etienne cathedral).
Chartres (Eure-et-Loir) Chartres en lumières (Lights on Chartres). This annual festival presents notably projections on the North cathedral portal, with a restitution of colors such as they were in middle-ages. Augmented reality, sort of.
Gourvilliers (Loiret). Digital puppets at Antre-Loup festival (at least in 2011).

Orléans (Loiret)
- Labomedia.
- Sound and lights about Jeanne of Arc, upon the cathedral. (Spring 2011).
- Festival Fête 01.10.