---
Digital Creation in Ile-de-France (France)
France has been for long a strongly centralized country. Hence the strongly dominant position of digital art resources in Ile-de-France, the Paris Region. Powerful institutions are at work not only in the capital "intra muros" but in several neighboring cities (Créteil, Issy-les-Moulineaux, Montreuil, Enghien-les-Bains...).
- Futur en Seine festival, in June.
- Vallée de la culture
- Tram, contemporary art network for Paris Ile-de-France (not specifically digital).
- Sigchi Paris chapter. Paris ACM Siggraph chapter of Siggraph.
- Nemo Festival.
- Festivals in Ile de France, a 2011 note by Dominique Moulon.
Aubervilliers. Was the place for an ambitious projetct, the Metafort, in an ancient fortification. As far as we know, the project was abandoned for safety/cost reasons, due to asbestos.
> Le Métafort d'Aubervilliers. Ed. by Pierre Musso and Jean Zeitoun, Editions Charles Le Bouil, 1995.
Bagnolet (Seine Saint-Denis)
- La fonderie de l'image.
Carrières-sous-Poissy
- The Chateau Vanderbilt becomes a cultural center, a "digital factory".
Créteil (Val de Marne)
- Exit, annual festival, at Maison des Arts
- Le Mac, Maison des arts de Créteil, "The technological studio". A special issue of ArtPress2 Aug/Sept/Oct 2012. "What art does to literature"
- Madeleine Rebérioux, Social cultural center.
Ecouen (Val d'Oise)
- National museum of Renaissance: mutimedia set presenting the goldsmith bench of Augustus the Great, Saxony elector.

Enghien-les-Bains (Val d'Oise)
- Virtualia (2013). Digital reconstitution of 19th century kinetic art, by Jean-Paul Favand.
- Every year Bains numériques, at Centre des arts.
. Specific performance in 2010: le banquet interactif.
. Several articles about les Bains numériques in Artpress2 Art in the digital age, May-June-July 2013.

- Médiathèque George Sand. Media library.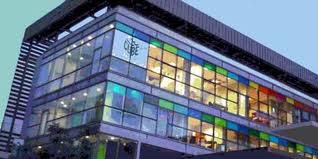 Le Cube, in Issy-les-Moulineaux (Hauts-de-Seine)
Evry (Essonne).
- Every second year Siana.
- Circuits éclectiques annual festival
- Permanent CDA (centre des arts)
Gentilly (Val de Marne):
- Town Cyberespace
- Le générateur

Guyancourt (Yvelines). Many works of art, some kinetic, in the urban park.
Issy-les-Moulineaux (Hauts de Seine):
Le Cube. A very active cultural center, dedicated to digital activities.
Electronic readers in the media libraries.

Mantes (Yvelines):
- Centre culturel Le Chaplin, au Val Fourré.

Marne-la-Vallée (Seine-et-Marne):
- La ferme du buisson.
- Université of Marne-la-Vallée
- ESIEA
- DisneyLand.
Meudon (Hauts-de-Seine). Seroussi pavilion , by Biothing. Technical notes and photos in [Burry]. Boldly generative art.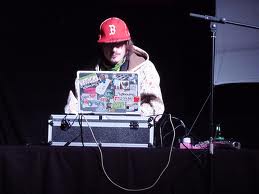 Neural Brigade in Montreuil
.
Montreuil (Seine Saint-Denis). Maison Populaire.
- Les Hivernales 2012. Includes a digital art section.

Neuilly (Hauts-de-Seine) Automata museum.
La Plaine Saint-Denis (Seine Saint-Denis). Dimension 3 Festival
Rocquencourt: Inria research center headquarters.
Saint-Denis (Seine Saint-Denis):
- Cultural center Synesthésie.
- Cité du Cinéma. Wikipedia.
Saint-Ouen (Seine Saint-Denis): http://www.visionsonic.net/
Verrières-le-Buisson (Essonne): FAN (Festival des arts numériques). First session in 2012.
Paris
- The Paris Digital Spring keeps going ! (2013)
- A Great Week in Paris (2012)
- Printing Error (2012)
In the metro stations and passages, flat screens for commercials.
- Sigchi Paris chapter. Paris ACM Siggraph.
- What makes Paris look like Paris? A computer study by Carnegie Mellon University.
- Le Paris des Orgues, association. Website.
- Mal au pixel festival www.malaupixel.org
Bookshops with digital art books:
- Fnac (Forum des Halles).
- L'Harmattan which has also a video shop for DVDs.
- Vrin (place de la Sorbonne) is dedicated to philosophy. But with several shelfs for aesthetics, where you can find treasures.
- Eyrolles (boulevard Saint Germain) is the most important store in Paris (if not in the World, since the McGrawHill NYC bookstore was closed around 2000) for computer books, included graphics.
- Mona Lisait (rue Pavée), for second hand books, mainly art, but very few books on digital.
- Florence Loewy, artists books. Some are digital (e.g. Lucioloscope by ESA des Rocailles).
- La Galcante (rue de l'Arbre sec), ancient press. Printing and press are basic digital arts (...)

Other shops of interest for artists, notably plastic artists:
- Colors, materials, tools: Sennelier (on river Seine, facing Le Louvre), Rougier-Plé (Filles du Calvaire Metro station), BHV (Hotel de Ville).
- Tools and materials for jewellers and watchmakers, also design products: Selfor (rue Réaumur).
- Tools and materials for DIY and art le BHV (basement and 2d floor),
- Heavier metal, materials and tools Weber (rue de Poitou, rue de Turenne).
- Embroidery from computer, software and machines: Fabre Varaldi (av. de la République).
The City of Paris supports the Fmac (Fonds municipal art collection). It has acquired in 2012 The Black Pixel, by Antoine Schmitt.
Paris 1e.
- Le Louvre is very active on the Web. Beyond its official website the museum is present on Facebook, Youtube, Dailymotion...
- Tour de l'horloge of La Conciergerie (on Seine river). A middle-ages clock, with a superb motto: "Machina quae bis sex tam juste dividit horas, justitiam servare monet legesque tueri" (This machine which, in twice sixes divides hours, teaches us to serve justice an obey laws.). Restored in 2012.
- Forum des Images (inside Forum des Halles, place carrée).
- Cinema Library (inside Forum des Halles).Alas practically nothing about digital.
- Musée des arts décoratifs (in 2011, exposition Chalayan, for instance).
- Le laboratoire
- MGI. Maison du geste et de l'image. For the younger. A little digital.

Customize your clothing at Nouveaux Ateliers.
- Les nouveaux ateliers. Customized clothing, you take your own measurements with a 3D scanner.
- Saint-Eustache, the organ. Completely remade, with a vintage style console, but digital control. A mobile console is visible near the main entrance. Description
Paris 2e.
- La Tête dans les nuages A large space dedicated to electronic games, including immersion cabins on jacks.
- La Cantine, near the Stock Exchange. A meeting point for computer professionals. Not specially arts.
Paris 3e. A lot of places and art galleries, mainly in the "haut marais".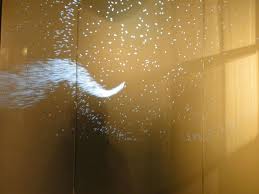 A work by Clempoel, at Galerie Charlot.
- Gaité lyrique. A large cultural and art center, with important expositions of digital creation and a resource center (library, medias).
- Maif social club. Calling a wide public, notably from schools, to digtal media and art understanding.
- Carreau du Temple. An exposition Center, hosting digital art shows, notably IYA.
- Galerie Charlot. Shows permanently digital art.
- Le Garage, which hosted once the annual art fair Slick, with some digital artists.
- Galerie N. Marino. Kinetic and digital art.
- Galerie Zürcher. Digital artists (sometimes)
- Galerie Denise René. She gave a powerful support to contemporary art, notably kinetic arts, in the 1960's. In 2013, a grand jump into the digital world.
- Acabas. Artists and design shop. Has notably works by Alain Le Boucher.
. Galerie Richard, shows works of Nechvatal.
- Galerie Taiss. Sometimes abstract and nearly digital art.
- Galerie Paris Beijing. See China below.
- Conservatoire des Arts et métiers. Multimediation, mainly for youngers.
- Eugénie Seigneur (16 rue Charlot) can make graphic actions on your pictures and frame them.

Paris 4e
- The Pompidou Centre, its architecture, its library, its expositions. Several millions of visitors each year.
- Restaurant Georges , in Centre Pompidou, architecture by Jacob + MacFarlane.
- Espace Meyer-Zafra. Gallery. Several digital artists (Agam, Cruz-Diez).
- A clock near Centre Pompidou, , passage de l'Horloge on 10/1/2010, it was out of service).
- Maison européenne de la photo. Expositions here show frequently digital art.
- Ircam, and Agora festival. The top place for French musical research.
- Between Ircam et Pompidou, a pool with fountains by Nikki St Phalle and Tinguely (kinetic art).
- Saint Merri Church. A lot of art (classical). Sometimes, digital art shows.
- At Leroy-Merlin (materials shop), LED art with Dipline panels.
- On Boulevard Beaumarchais, a small shop selling music boxes and other automata.
- Musée des automates et de la magie
- Pavillon de l'Arsenal. Frequent shows of contemporary architecture and projects.
Paris 5e.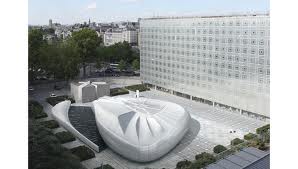 Mobile Art, by Zaha Hadid, on the back court of Institut du Monde Arabe.
The Latin Quarter, Parisian district of universities and the related contestation (since the middle ages). A lot of famed schools, and diversified bookshops (see above).
- Mobile Art Pavilion, by Zaha Hadid, The main IMA building is also famed for its cybernetic light regulation, with mobile metal parts (still operational? ).
. Ensad, Ulm street (Ecole nationale supérieure des arts décoratifs).
. Paris ACM Siggraph site. See its meetings agenda.
- Eclats de Nature. This shop sells the Heliobil butterflies of Philippe Debouclans (kinetic art).
Paris 6e
- A high place for galleries and antiquity shops. But with little place for digital art.
- Galerie Lélia Mordoch (rue Mazarine). Sometimes it exposes contemporary and digital art. Among the hosted artists: François Morellet, Julio Le Parc and Alain Le Boucher.
Paris 7e.
More ministries than culture, but:
. Eiffel tower: nearly an equation, and a lot of computations in the 19th century, by Eiffel studio.
. Musée des Arts Nouveaux (quai Branly), with architecture by Jean Nouvel.
- Memorial of Algerian war. Three columns with lights scrolling the names of victims.
Paris 8e
- Publicis Drugstore (architecture)
Paris 9e.
The Pigalle's district has its night life, where you can see and hear DJs and VJ; it considers also itself as "the largest music mall in the world", mostly acoustic but with a lot of digital equipement, for instance at Star's Music and Home Studio.

Paris 10e.
- Gare du Nord: a kinetic and video work by Fabien Chalon in one of the halls. But, since July 2011, it is out of service.
- Le 29.(rue des Récollets). Bookshop and digital photo laboratory.
Paris 11e.
- Maison des métallos.
- Ars longa gallery.
- Galerie du Buisson. Spirituality and digital art.
Paris 12e.
- Terres d'Aligre. Bookshop, gallery, publishing. Contemporary art, some digital works.
- Marcadys. Paintings.
Paris 13e. Docks en Seine, Cité de la Mode et du design. Website.
- The first museum on "Entertainment arts" opens in Paris, november 16 2014.
Paris 16e. Palais de Tokyo, "contemporary creation site". Website.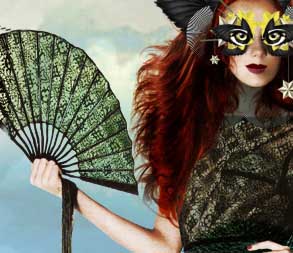 La machine of Moulin Rouge
Paris 18e. La machine du Moulin rouge.

Paris 19e
- La galerie G. Art in the Garage. Sometimes digital.
- Cité de la musique. A collection of instruments and active policy of concert recording and broadcasting.
- Cité des Sciences/Universcience, with an important library, open to public and with special services to professionals.
- X-réseau or Théâtre Paris-Villette. Some virtual works.
- Le 104 (Le CentQuatre), art institution of Paris City.

Paris 20e
- La bellevilloise.
- Galerie de Roussan
- Plateforme, presenting Dimanche rouge in 2013.
Paris La Défense
- The whole district testifies about architecture evolutions during the last decades. The Nobel tower is one of the first, and "modern"... today outmoded. The last towers (EDF, GAN) are more "post'modern"). A lot of sculpture is presented on the esplanade, which you can visit as an open air museum of contemporary art: Miro, Calder, César.. See the online catalog of presented works.
- La Défense is sometimes a great stage for sound and light spectacles, or live 4D. For instance, in 1990 with Jean-Michel Jarre or in September 2012, as tells us Eric Legay.

Rungis (Essonne): Puce Muse. Musical space.
Saclay (Essonne): A vast set of campuses and research centers. For example Neurospin about neurosciences. Not open to the public.

Saint-Denis (Seine Saint-Denis) Synesthésie.
- let us recall that Saint-Denis was the first Gothic church.

Saint-Ouen (Seine Saint-Denis): Mains d'oeuvres. "A place for artistic and cultural imagination". Mostly performance arts (dance, theater, music), but also visual and "sensorial" arts.
Sèvres (Hauts-de-Seine) La Générale en manufacture (studios for artists, not open to the public)
Versailles (Yvelines) The castle hosts frequently contemporaray art, and makes use of multimedia applications.
Paris Roissy (Charles de Gaulle Airport)
- Works by Miguel Chevalier in terminal 2E, gate M23. Text and pictures by Digitalarti.(Summer 2012).