---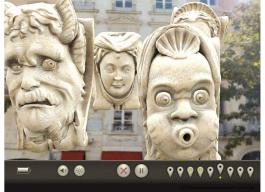 Bordeaux, Imayana.
Digital Creation in Nouvelle-Aquitaine (France)
The Region has a cultural Agency, Ecla, (Ecrit, cinéma, livre et audiovisuel en Aquitaine), with in particular a literary patrimony pole, called Monumérique-Archimérique.
Agen. The Walibi park has multimedia projects.
Angoulème (Charente)
- Comic strip national center and annual festival.
- Enjmin. Video of opening ceremony in 2005.
Argelès-sur-Mer (Pyrénées Atlantiques) Cinimaginaire
Biarritz. Cité de l'océan et du surf. Quoted by Sonovision, May 2011.
Billières (Pyrénées Atlantiques), near Pau Acce(s).

Bordeaux (Gironde)
- Espace culturel multimédia
- Imayana, multimedia tack, interactive and fictional. Augmented reality on a tactile tablet. An article signed by Annick Emery in Sonovision, Sept. 2012.
- From the 1950's to 1997 was held the Sigma festival. See its story by Frank Ancel.
- La Commande (Pyrénées Atlantiques). Sometimes Digital Art at La Commanderie.
Limoges. Wif: Worldwide interactive design festival


Poitiers (Vienne)
- Digital meetings. For 2011: an article by Eric Leguay.
- Futuroscope. Entertainment park. Video of illuminations for Christmas 2010.
- Make Art festival.
- Mendès-France space.
Saint-Médart en Jalles. Festival Des souris et des hommes.
Pau (Pyrénées Atlantiques)
- see Billières.
- Festival Les Chemins Electroniques.

Terrasson (Dordogne) ECM