---
Light art, light painting
Last revised 9/4/2014. Return to Major concepts. See LED art.
- Our posts and references.
All the artists of the specialty we know of are listed in our Index, with direct link on their Diccan's item. On summer 2014, we list some 40 artists.
We concentrate here on conceptual considerations and the state of the art. The historicaldevelopment of the field is described, period after period, in our history of digital art.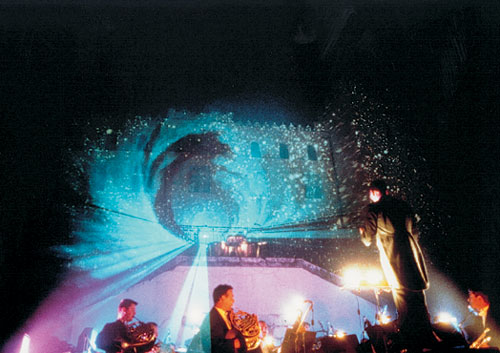 Light art: at Saint-Priest castle, a creation, described by Le jardin de DB
Light may be seen as a component in other arts (e.g. computer graphics, animation) or as an art for itself.
Digital art uses light mainly along two ways: projection and LED's (with antecedents in traditional bulbs and neon tubes).
- Neon, an ancestor of LED art. (post).
Light painting. Wikipedia. It is not, by itself, a digital technique.
Artists (See also LED art)
- Morellet (abstraction, neon tube).
- Frank Cadonna, Photoscity Cy. Light painting.
- Kaalam. Calligraphic art, a form of light painting.
- Keith Sonnier. Untitled (2004). Neon tubes. Quotd by Art Actel Jan/Feb 2014.
- Tracey Emin. Loving (2013). Neon tubes. Quoted by Art Actuel Jan/Feb 2014.
References
- Algorithms and textures [Kemp], [Brinkmann], [Foley], [Gonzalez], [Ebert].
- Light designer. See for instance Daniel Brochier.
- Page in parislovesme.
DICCAN'S PARTNERS